Turn It On
While this is not a feature that users need to learn how to use, autosave ensures that no data is lost and removes the possibility of the need for data re-entry.
Any time data is updated in Business Central, the system automatically saves it. Users coming from other ERP systems may be unaware that changes they make are automatically saved even if they don't click the save button.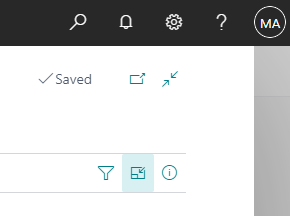 The Autosave indicator appears in the upper right corner of the Business Central window and updates to "saving" or "saved" depending on when the computer transfers the data to the server.
If an error occurs that stops the autosave function from happening, the autosave indicator will display the message "not saved" to alert the user.
At Acumen Consulting, we know Microsoft Dynamics 365 Business Central from back to front – so if you feel like it could be delivering you more, there's no better partner to show you how.
We're Acumen, where consulting truly means something.