Microsoft Dynamics 365 Business Central "Easy Upgrade Pathway"
Tell us your business pain points

Been told that a brand new reimplementation is the only answer?

Have you been quoted an exorbitant price to upgrade?

Are you struggling in an old version of Microsoft Dynamics NAV that doesn't meet your business needs?

Do you have a highly modified database that is expensive to upgrade?

Have you paid annual support and wish to migrate to the latest version?

Are you running into software compatibility issues and need to move?

Do you have multiple companies that makes the upgrade costs unaffordable?

Are you stuck on an unsupported version of the software?

Do you want to move to a newer system where updates are done automatically?
The answer is the D365 BC "Easy Upgrade Pathway" from Acumen Consulting
– A stress free upgrade that's tailored to your business!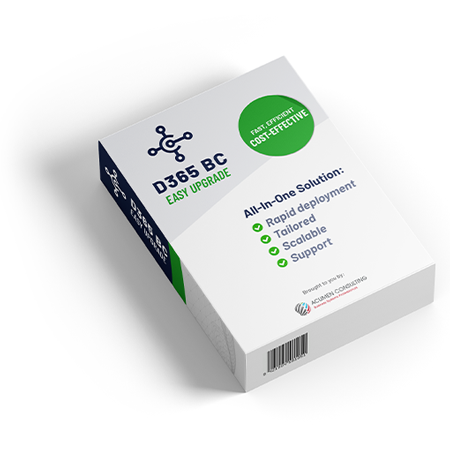 Why is the Acumen pathway different?
We've made it simple with sophisticated data tools and a proven approach that does more of the leg work.
We'll work with you to customise the best approach for your business and not simply recommend re-implementation if it's unnecessary.
You'll get upgraded to a powerful solution that fits your needs, saving time and money in the process.
UPGRADE NOW
Custom tools and a proven approach
Data Upgrade Tools: Custom developed by Acumen to deliver huge efficiencies to the upgrade process
Identify data that has been modified throughout the system efficiently
Handle both standard data and modified data different throughout the upgrade process
Automatically move data to either on-premise or cloud offering
Cover all versions from Microsoft Dynamics NAV 2009 onwards
Data Upgrade Process: A set of stream-lined routines that provide a clear pathway during the upgrade process
Data Upgrade Experience: A highly experienced team that has delivered countless successful Microsoft Dynamics 365 Business Central upgrades to businesses of all sizes.
Why you should consider upgrading rather than re-implementation
While technology is a crucial tool in our lives and businesses, the reality is that it frequently changes faster than we can keep up and the ERP software industry is no exception.
To many, it feels like once you have gotten the latest version, the next is already being developed or released.
This likely explains why, according to Microsoft, almost 70% of Dynamics NAV users are still running old versions of NAV.
Though it may seem like an uphill battle to keep your ERP system updated regularly, failing to update can have a drastic impact on how you serve your customers, manage your business, and integrate various business functions.
It's also worth keeping in mind that the less frequently you address this, the longer updates and customisations will take. In addition to the time involved, this can be difficult and costly.
Why an upgrade may suit your business better than re-implementation
As a customer, one of the main factors that will affect the decision to re-implement is the time involved for your staff.
If you upgrade, most of the work will be between your key project team and our developers – the rest of your staff will only really be involved with the testing.
For a re-implementation, there will be the additional work of
collecting functional requirements and potentially amending your existing processes.
Another factor is data – re-implementation often "loses" deep detail in the data. Typically, when implementing, only the balances will be brought across.
Do you want to work with a solution that integrates to your other Dynamics and Office 365 products?
Do you want a system that has a comprehensive roadmap with regular updates and releases?
Do you want to empower your business with a globally recognised solution?
Unlock your business potential
As a fully cloud-based solution, Dynamics 365 Business Central can add value and ease across your whole organisation.
Accessibility: Access to Business Central is available through any Web Browser on any Operating System so your team can work, report and add value on any device from anywhere in the world – just add internet!
User Management: Tailored Role Centres enable configuration of specific user roles that suit the way your people work and what they can see and change.
Familiar Controls: Choosing Microsoft ERP brings the advantage of having most of the products you are familiar with, integrated with the system like Microsoft Office, Outlook and Excel.
See It All: Digging deep into your business data and using it to make the right decisions is called Business Intelligence. Microsoft's Power BI introduces a new world of reporting and confident decision making based on reliable data.
Scalability: Dynamics 365 Business Central is designed to grow alongside your business and facilitate the changes you will encounter over the long term. Extensions for a range of different functions are available from Acumen and can be customised to suit your operation such as: Banking integration, Warehouse Scanning, Quality Control and more.
Let's face it! You don't look at Dynamics 365 Business Central to just run your accounts. You are here because you have outgrown your spreadsheets and simpler accounting package. You are in need of a system that supports all aspects of your business!
Let's get cracking
You're not far away from upgrading to a tailored solution that will handle everything you can throw at it and keep up as your business grows! Tell us who you are below and get ready for the increased productivity and profitability that your business needs.