Microsoft Dynamics 365 Business Central "In a Box"
Tell us your business pain points
Do you spend more time working ON rather than IN your business?
Have you outgrown a finance package like Xero or MYOB?
Are you drowning in spreadsheets?
Have you got plans to expand into manufacturing?
Are you spending too much time on processes?
Would you like a better view of your inventory and supply chain?
Do you want to avoid investing in bolt-on software solutions?
Are your systems slowing down or struggling?
The answer is D365 BC "In a Box" from Acumen Consulting
– One simple cloud-based software package that can do it all!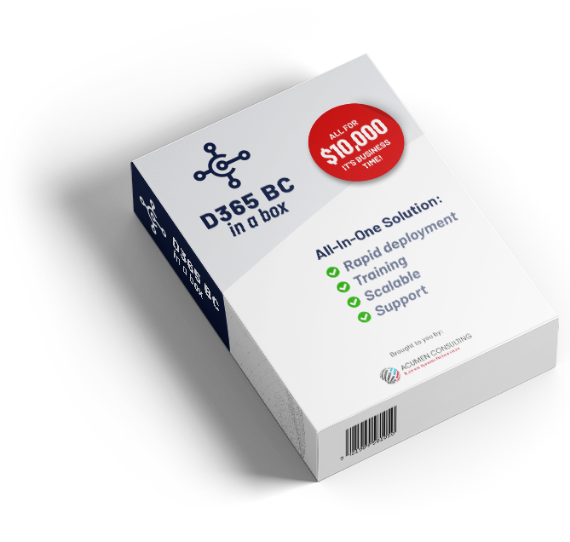 What's in the box?
Rapid Deployment: Up and running in 2 – 3 weeks
Training: 3 days training plus online and video resources
Scalable: Grows with your business
Support: Get a new co-driver – Acumen Consulting!
All-In-One: Finance, Banking, Fixed Assets, Sales & Receivables, Purchase & Payables, Resource Management, Basic Items
All for $10,000.00 – it's business time!
Download Brochure
It's Business Time
In today's fast-paced world where anything could happen at any time, we realise that time is indeed money! Acumen has therefore developed a solution to get you up and running with Business Central quickly, painlessly and cost-effectively: Business Central In a Box – A fast-track solution to getting Finance, Banking, Fixed Assets, Sales, Purchasing and Basic Item setups functioning within 2 to 3 weeks.
For only $10,000 you will get a fully functioning ERP system that is cloud based, interfaces with your existing Office 365 products and offers world class reporting. We will provide 3 days of intensive training and support while you test-drive your system and check your opening balances. Ongoing support is available from the experts at Acumen, the only thing you need worry about is your monthly user subscriptions.
Do you want to work with a solution that integrates to your other Dynamics and Office 365 products?
Do you want a system that has a comprehensive roadmap with regular updates and releases?
Do you want to empower your business with a globally recognised solution?
Unlock your business potential
As a fully cloud-based solution, Dynamics 365 Business Central "In a Box" can add value and ease across your whole organisation.
Accessibility: Access to Business Central is available through any Web Browser on any Operating System so your team can work, report and add value on any device from anywhere in the world – just add internet!
User Management: Tailored Role Centres enable configuration of specific user roles that suit the way your people work and what they can see and change.
Familiar Controls: Choosing Microsoft ERP brings the advantage of having most of the products you are familiar with integrated with the system like Microsoft Office, Outlook and Excel.
See It All: Digging deep into your business data and using it to make the right decisions is called Business Intelligence. Microsoft's Power BI introduces a new world of reporting and confident decision making based on reliable data.
Scalability: Dynamics 365 Business Central is designed to grow alongside your business and facilitate the changes you will encounter over the long term. Extensions for a range of different functions are available from Acumen and can be customised to suit your operation such as: Banking integration, Warehouse Scanning, Quality Control and more.
Let's face it! You don't look at Dynamics 365 Business Central to just run your accounts. You are here because you have outgrown your spreadsheets and simpler accounting package. You are in need of a system that supports all aspects of your business!
*365 BC 'in a box' $10,000 deployment applies to New Zealand businesses
Let's get cracking
You're less than a month away from having the world's leading ERP platform revolutionising your business! Tell us who you are below and get ready for the increased productivity and profitability that your business needs.