We're pleased to bring you exciting news from Microsoft with the announcement of Business Central 2021 release wave 1.
Many of the additional functions and improvements are driven by the user community and will help you get more out of Dynamics 365 Business Central.
The 365BC enhancements in wave 1 will be rolled out between April and September 2021 and includes several updates, tweaks and new features to deliver your business enhanced, accuracy, efficiency and productivity.
With the help of Acumen Consulting, Dynamics 365 BC can provide a next generation business software solution optimised for you and your digital transformation plan.
We've hand-picked some of the key areas that we feel will deliver particular value to our clients so please get in touch and discuss your needs as we continue to deliver next-level software solutions to your business.
Improved control for partners
Where you have partner-users acting as delegated administrators for testing and perfecting processes and functions, Microsoft is helping them better serve you by providing additional access and capabilities.
Where some functions were only accessible to licensed customer users, delegated administrators can now provide you with enhanced support.
A good example is the setting up and testing of job queues. Partners can now verify that set-up job queues can actually run as well as being able to pause job queues, restart a failed job queue and run a job queue for one full cycle to verify that it works.
For customers this means that you can have total confidence in the effectiveness of job queues and many other functions before they are handed to you by your partners.
Ultimately this means that we are better equipped than ever to test, trouble-shoot and perfect the solutions that we deliver to you requiring less back and forth and fewer distractions to your operation.
More data, faster
It was identified that customers seeking to export large databases in the .bacpac format were struggling to complete the process. This was due to Azure not allocating sufficient resources for the operation.
This wave 1 release introduces a more reliable solution for database exports that will comfortably handle larger databases, enabling troubleshooting, data analysis and long-term data retention with ease and speed.
Application tweaks
There have been several improvements in the practical use of 365BC and here are the key application enhancements we believe you'll want to know about:
Bank reconciliation
The features for bank reconciliation have been improved to make it easier to see how the automatic application rules have been applied.
From the Bank Acc. Reconciliation page you can cancel a bank reconciliation that was posted with mistakes, and then from the Bank Statements page you can run a new bank reconciliation.
You can also change the statement number for the bank reconciliation in case you want to redo an undone bank reconciliation using the same number.
The Undo functionality is available on the standard Bank Reconciliation page and a report for the posted bank reconciliations (bank acc. statements) is now also available.
These fixes will go along way to ensuring that everything is registered and cash positions are correct.
General ledger entries
You can now correct dimensions for general ledger entries to ensure your financial reporting gives you accurate insights without having to make notes of temporary data entry mistakes.
For one or more general ledger entries, you can change the dimension values, add dimensions, remove them or lock particular fields to minimise errors.
Product and stock variations simplified
If you have many similar products with only minor variations such as colour, then managing these just became faster, simpler and more accurate.
Rather than setting up each variant as a separate item, you can now set up one item and then specify the different colours as variants of that one item.
A new Variant Code field is added to the production order header, so you can specify not only the locations, but also the variant to produce improving how you define production bill of materials or routes for different variants and the locations you store them.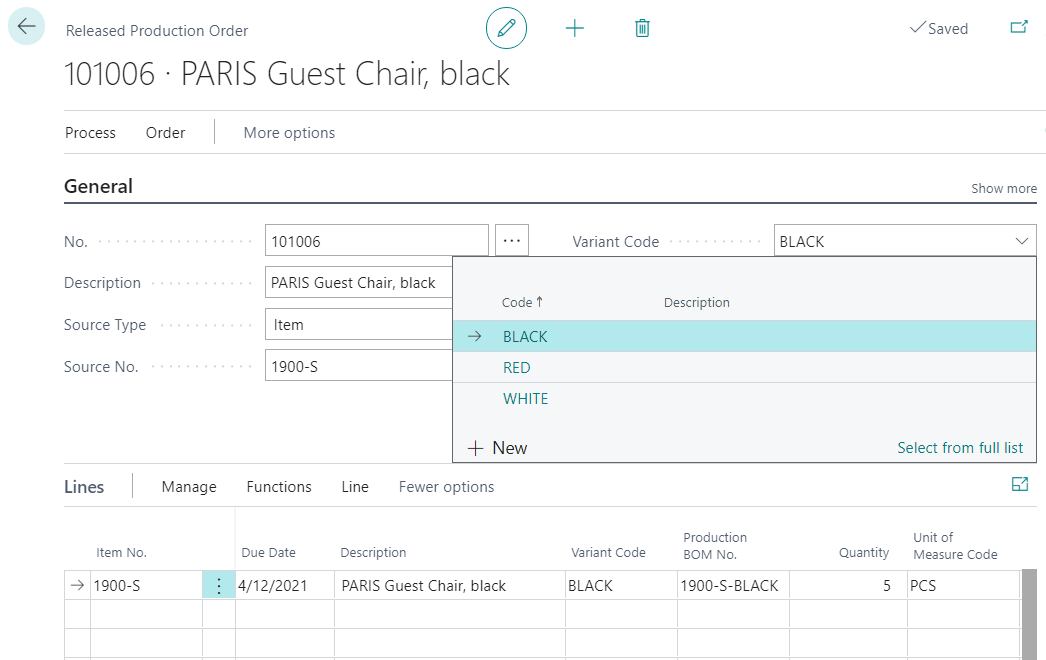 Item cost set-up wizard
Because many 365 Business Central features are turned on by default, they impact performance as data accrues over time.
Now with the introduction of an inventory setup wizard you will be able to have some processes run in the background of even turn them off altogether if they are unnecessary to your operation.
On the Inventory Setup page, when you turn off the Automatic Cost Posting toggle, or specify Never in the Automatic Cost Adjustment field, an assisted setup guide becomes available, and can help you on each step of the way.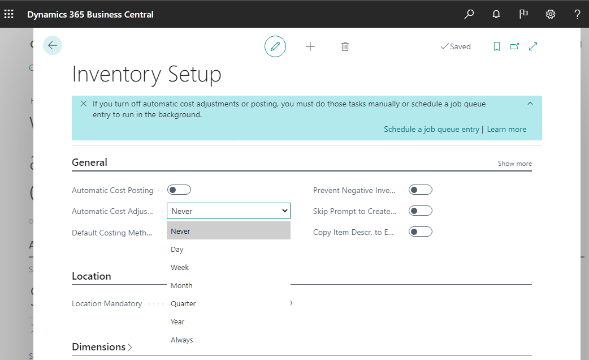 Improved Office 365 integration
2021 Wave 1 also introduces enhances functionality to the extended Microsoft suite:
Microsoft team searching
Business Central offers a comprehensive business contact management system that is essential for users in sales, operations, or other departmental roles who often need to dial up and start a conversation with their vendors, customers, and other contacts in Microsoft Teams.
By quickly accessing business contacts from Microsoft Teams, customers don't need to switch applications for a simple lookup and can view details entirely within Microsoft Teams.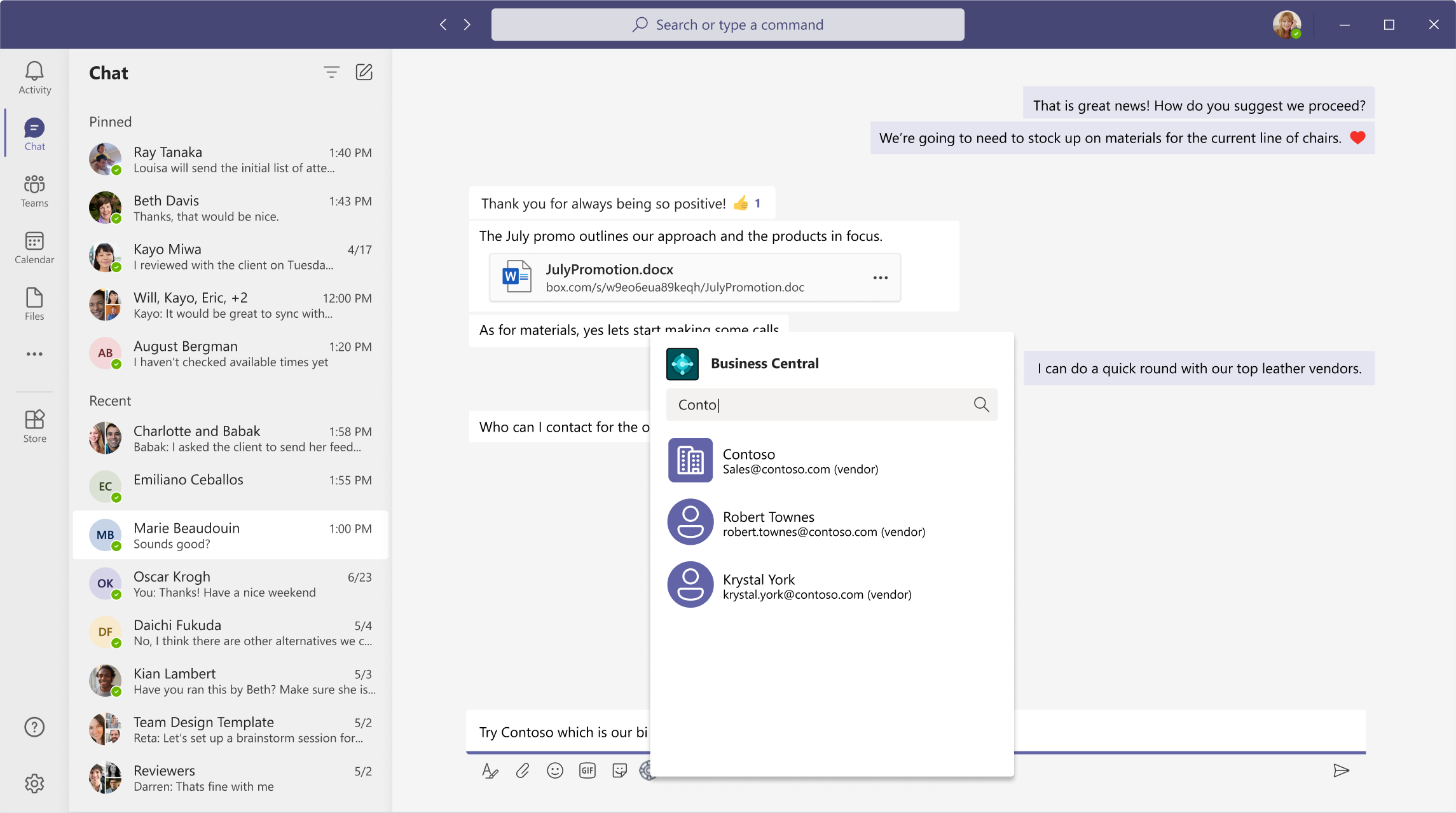 Enhanced editing in Excel
Many business processes rely on Microsoft Excel for data entry, bulk editing, or simply for data analysis.
We've improved the reliability of the Excel add-in so that business users can work more effectively in a broader range of scenarios.
Using the new Business Central Excel add-in with your Excel spreadsheets enables editing or refreshing data straights from Business Central companies.
Now you can also get and update data from Business Central companies where the company name includes non-English characters or non-letter symbols.
Empowering data
Special care has been taken to evolve your data and its value within your operation. By listening to customers and analysing usage data, Microsoft has delivered changes that simplify the way you use your data within 365 Business Central and across other platforms like Power BI or Dynamics 365 Sales.
Powerful business intelligence
Faster and more robust data analysis is key for any modern organisation. While Business Central already offers tight integration with Power BI, it relies strictly on web services. This feature enables more modern and richer data sources for your reports hosted in Power BI.
Customers and partners now have access to better and faster data analytics in Power BI. This feature enables the creation of Power BI reports and dashboards using APIs instead of having to enable pages as web services.
Sales order precision
When you engage with customers in Dynamics 365 Sales and prepare sales orders for completion in Business Central, accuracy is a vital aspect of order fulfilment.
When users enter sales order lines in Dynamics 365 Sales, the Quantity on Hand field on the sales order will contain information about the available inventory from Business Central.
Quantity on Hand information that is synchronized from Business Central is also available on Opportunity Products and Sales Quote Product views in Dynamics 365 Sales.
Usability enhancements
Extending the features of the 2020 release wave 1 that focused primarily on improving the user experience, 2021 release wave 1 introduces even more quality of life improvements to deliver the information you need in a single click. These intuitive updates include:
Enhanced hyperlinks
Clickable hyperlinks in non-editable fields take users directly to related records. Customer feedback has indicated where additional links can deliver value and the approach has extended throughout 365BC.
Related articles and items can now be clicked-to immediately from non-editable fields such as card pages or the header and footer on document pages.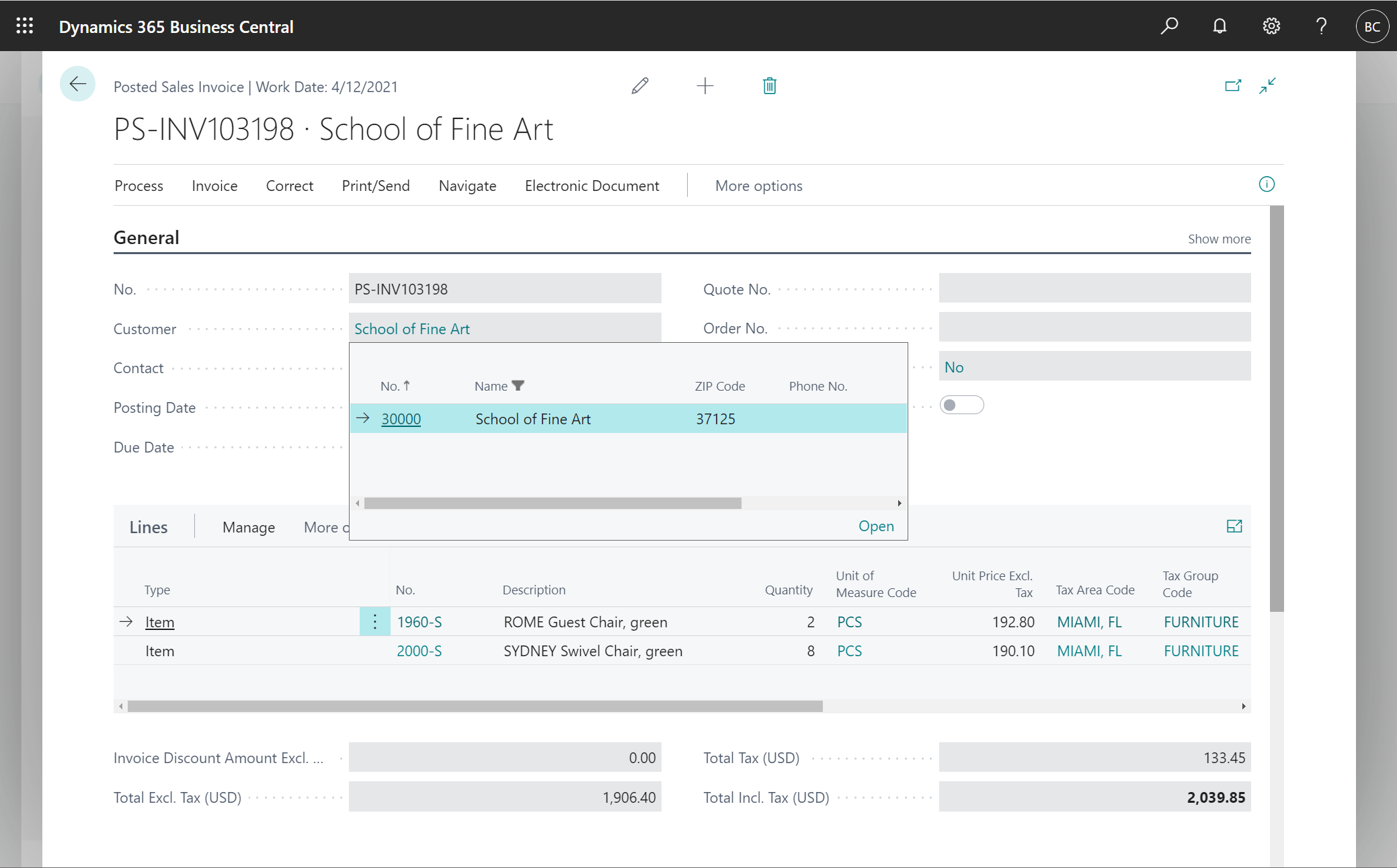 Screen versatility
For reduced browser widths or upscaled screens the 365BC desktop interface will now intuitively adapt to available screen space.
Accommodating the preferences of different users' comfortable vision scale along with diverse screen sizes, the combination of smart page inspection and improved scrollbars and resizing tools provides 365BC users with a far more tailorable interface.
Click and highlight
There is an overwhelming preference for all contents of a field or cell to be highlighted or selected when clicked or tabbed-to.
Remaining instances where this feature was not active have been removed enabling simple and rapid replacement of data in a field without having to manually select.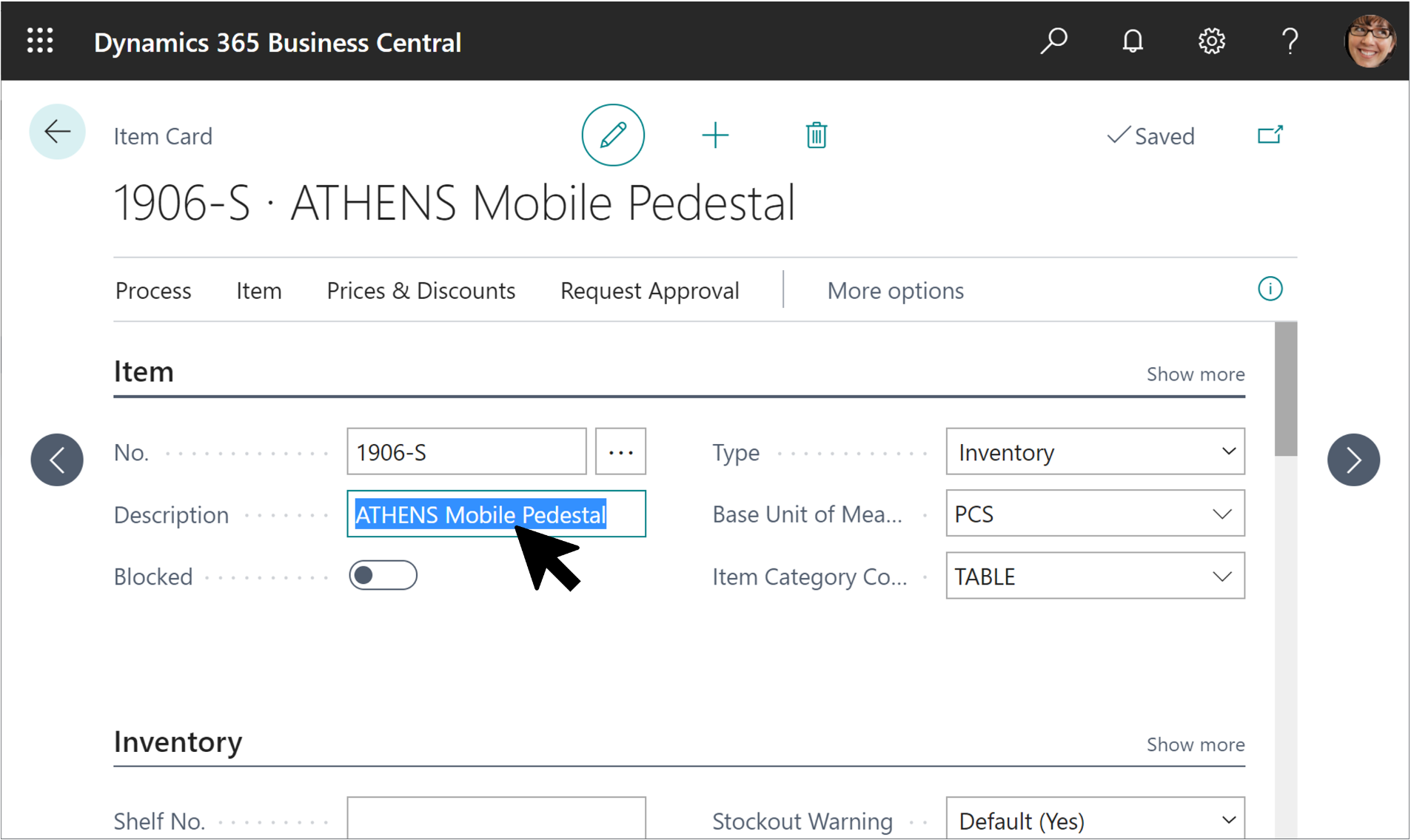 Choose the right partner
If you're already using Dynamics 365 Business Central, planning a migration or interested in the countless business advantages on offer then you need to choose the right implementation partner.
We're Acumen, where consulting truly means something. We'll ensure that the way your business leverages this game-changing platform is precisely tailored to the unique way you operate. Call us for increased efficiency, productivity and profitability – It's Business Time!