ExpandIT: Field Service Automation
No-stress service management
ExpandIT field service software simplifies the management and scheduling of your field technicians and enables your dispatchers to have a complete overview of your field technicians. It streamlines the flow of information between the field and office, while digitising processes. The ExpandIT extension in Microsoft AppSource seamlessly integrates ExpandIT with Microsoft Dynamics 365 Business Central.
Field-Service
ExpandIT Field Service software puts information at your field technicians' fingertips – digitally. Easily track key information, access up to date data, view a real-time overview of job related information, complete checklists and provide photographic proof of work completed. Your organisation can streamline the order flow from field technician through to the accounting system and improve cash flow with faster billing. The improved transparency and better documentation increases customer satisfaction and enhances compliance.
Work Order Management
Field Service Management resource planners can quickly and easily dispatch work orders to field technicians. The navigate icon helps technicians locate their jobs and easily manage work orders, including registering time usage, consumption of parts, and other expenses or fees through ExpandIT Field Service. Time usage is logged automatically, including travel to/from a job and field technicians can register service type, fault reason, fault area, symptom, fault, and resolution.
Real-Time Overview
With information being updated in real-time, ExpandIT Field Service ensures both dispatchers and field technicians have an accurate overview of co-workers and jobs. Work orders are dispatched digitally to a technicians' mobile device enabling changes or updates to be quickly shared. Technicians can work on specific tasks for a job and check them off as completed. All jobs show their current status, and when the job is done the data flows all the way through to invoicing in just a matter of minutes.

We deliver enhanced visibility, collaboration and empowerment to your worksites and remote technicians. Acumen's industry-leading consultants will ensure smooth implementation and rapid deployment of field service automation throughout your organisation.
Empower your service staff and delight customers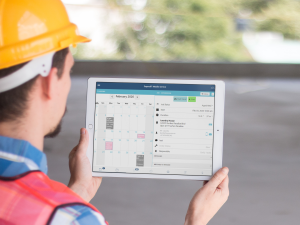 Key features and benefits of using the ExpandIT:
Field Technicians
View Schedule
Track Time & Materials
Access History
Complete Checklists
Operations
Streamlined Billing
ERP Integration
Approval Workflow
Ensure Compliance
Customers
Pay Invoices Online
Live Updates
Request Service View
Service Reports
Ready for the next level?
Start our conversation now and change how you do business
IT'S BUSINESS TIME